See you at our  59th Annual Ohio Gourd Show!!
2022 OHIO GOURD SHOW –

OCTOBER 7, 8, 9, 2022
Delaware County Fairgrounds, Delaware, Ohio
Friday, October 7, 2022 – Noon to 5 p.m.
Saturday, October 8, 2022 – 9 a.m. to 5 p.m.
Sunday, October 9, 2022 – 10 a.m. to 4 p.m.
Theme: 

ART

is in the HAND of the GOURD-HOLDER
!!!!!!!!!!!!!!!!!!!!!!!!!!!!!!!!!!!!!!!!!!!
Gourd Quilt
The OGS is creating a gourd  quilt/wall hanging like the one pictured below.  It is  a fundraiser for the Society and we'll be selling tickets for it to be raffled at the Show in October.
We need 110 squares 4" x 4" decorated.   They can be painted, wood burned, carved, etc.   We only have about 30—40 right now.
We have scheduled a painting session at the Sunbury Community Library, 44 Burrer  Drive, Sunbury, Ohio 43074.
DATE:    June 25, 2022.   TIME:   10:00 am to 12:00 pm
SUPPLIES:   Will be provided.   If you have your own brushes that might be helpful.
It will be fun and an opportunity to meet other members!
We will be putting it together during the month of July and will begin selling raffle tickets  by August 1.
Contact:  Linda Rose, lindarose@insight.rr.com,  740-971-9394 (cell/txt).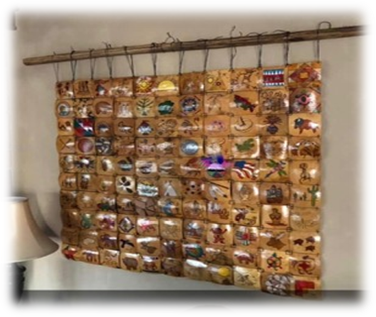 _________________________________________________
Our annual
Spring meeting
was Saturday, April 23, 2022!
***********************************************************************************************************************************
The online Gourd Shop is offline for a few months.
We hope to be back open later this year!
We're Living the Gourd Life
OGS provides opportunities for creativity, learning, community involvement and sharing of talents to people of all ages.
Posts from Facebook:
The Ohio Gourd Society: Active and Social
We host meetings each year in addition to our signature event, The Ohio Gourd Show!
You can find us on Facebook, meet with your local gourd patch, start one of your own, get involved in our board or our youth program, or donate to support the work of our organization!